Musicheads,
It's been three weeks since the last #NewMusicFriday post, but in reality, there hasn't been much to chat about.  This week however, is MUCH different.  As much as the past two weeks have lacked in terms of quality releases, this past release week made up for.  With 8 quality releases in the past week, there was more than a fair share of music to wrap your ears around.  You had new albums from BØRNS, Small Black, Keep Shelly In Athens, surprise releases from Baltimore's Sun Club and Beach House (their 2nd release in as many months), YACHT, Majical Cloudz and Neon Indian.  While I didn't acquire them all, I do want to get right into the ones I did.
We start with the début full-length from Michigan born Garrett Borns, aka BØRNS, with Dopamine.
The album kicks off with the buzz track that hit the internet over a year ago and was featured by The Audiophile and as the Artist of The Week on EVRD back in February this year, 10,000 Emerald Pools.
BØRNS picked up a lot of traction earlier this year, and even featured in a number of commercials with his track Electric Love which has to be considered as the lead single on the album.  The rest of the album features 40 minutes of music over 11 tracks performed in a similar vein to these two tracks, featuring Garrett Borns' falsetto vocals in a light, but refreshing approach over slower electronic-heavy accompaniment.  Another standout from the album also happened to be released on the previous Candy EP, Past Lives.  The last song I do want to make mention of is The Emotion.  This track highlights exactly what makes Garrett worth listening to.  You pair his voice with an airy, West Coast living inspired backing guitar track and then heap on production value for a crisp final product.  If you enjoy these four tracks, you will also enjoy what the rest of the album has to offer.
Next, we move on to a former Artist Spotlight feature, Keep Shelly In Athens. The Greek group returned this week with a new album and revamped lineup for Now I'm Ready.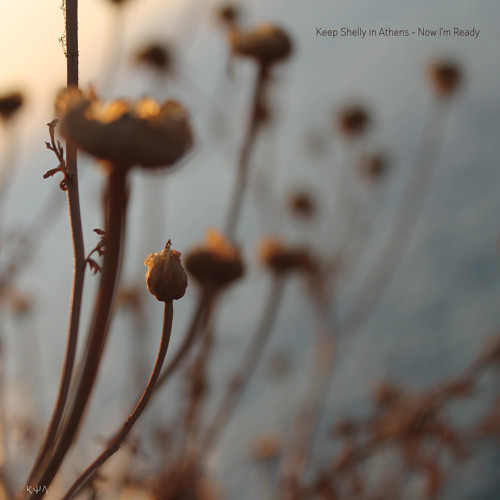 The group's sophomore effort brings a new lead vocalist into the fray and with it a relatively new sound.  The album starts off strong with the lead single, Fractals.
The title track is the second single, and I absolutely love it.  Now I'm Ready features fellow Greek artist Ocean Hope and begins as a very subdued track with an underwater feeling to it before building into this driving and expansive echoing finish.  I have also been deeply impressed by the track Benighted.  This track is built around an eerie melody comprised of synthesizer and keyboard while the new vocalist, Myrtha, sings, almost in the background of the track.  I also really dig the final two tracks on the album, Nobody and Hunter.  Nobody features a groovy bass line that drives the track while Hunter reminds me of Massive Attack. While the album only offers us 8 new tracks at just under 40 minutes, I'm excited to have new music from the group and far more optimistic about  more music to come in the near future.
We then move on to Brooklyn, by way of Texas/Mexico with that of Neon Indian and the latest album, Vega Intl. Night School.
The third release from the Alan Palomo project Neon Indian may be his best album yet.  Although it lacks the heavy-hitting single that Polish Girl was for Era Extraña, the album is packed with enough tracks you do want to listen to, including the lead single Annie,  and second single Slumlord.
The first track on the album, Hit Parade, is an excellent starter for the album and The Glitzy Hive, a track found smack dab in the middle of the album, is another one worth listening to as well.  With 14 tracks, there are a lot of different tracks with multiple builds to choose from to listen to.  The track Smut! feels like it could have fit on the previous album based on the synthesizer sounds utilized, while the following track Bozo has a sound that reminds me of Kavinsky.  It's an interesting collection of tracks and the most complete album Palomo has released to date.  Each track transitions nicely into the next so listening through it in its entirety is seamless and enjoyable.
While I purchased a bunch of other albums, I'll let you discover those for yourself.  I really would not sleep on either the Small Black or Majical Cloudz albums though.
---
This week offered a lot of new music from artists that have been featured by the Audiophile previously.  The singles world was no exception to this, beginning with Purity Ring getting a remix from HEALTH.
Then, we also got new music from Novo Amor in the form of the track Anchor.
Also this week, another artist that has been featured previously, Shura, partnered with Mura Masa to release a killer track Love For That.
---
And now, as always, here was everything acquired on this New Release Tuesday:
and be sure to follow on Facebook and on Twitter @AudiofileAkwitz to get even more music updates that don't make the posts.
Spotify Playlists:
-Akwitz
Now Playing: Purity Ring – Begin Again (HEALTH Remix)